Your Energy Consumption needs monitoring.
Chances are, you're ignoring spikes in your usage
and continuously leaking money.
ecoVaro monitors Energy and Environmental data in real-time e.g. Electricity, Gas, Water, Oil, Carbon, Temperature, Humidity, Solar Power, Geothermal, Hydroelectric, Air Pressure and more.
It takes data from any device e.g. meters into the ecoVaro logger and converts it into meaningful graphs. This allows you to see where and when e.g. energy is being used, as well as make sense of unexplained usage peaks. Ultimately, allowing you to implement changes to achieve savings across your business.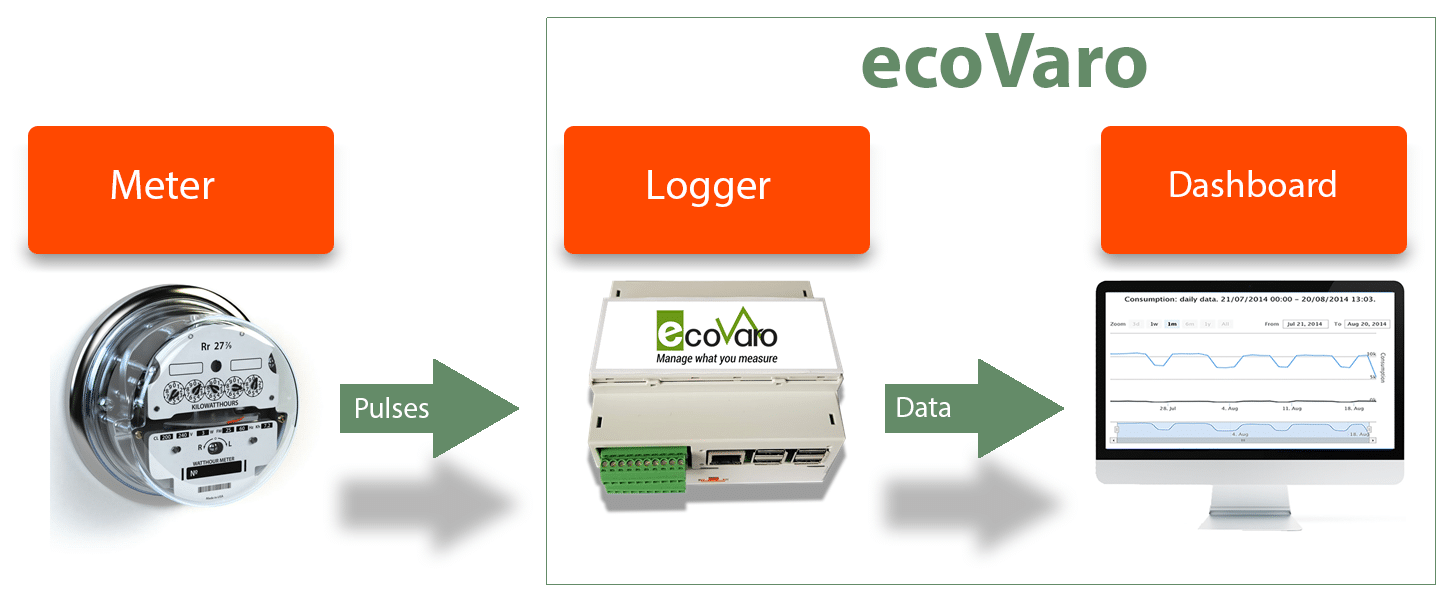 Data Aggregation
✓ Data monitored and aggregated by the ecoVaro Logger 24/7/365
✓ Cloud-based Data Aggregation with end-to-end encryption, accuracy and reliability
✓ Data can be aggregated in any format, from multiple sources
✓ Cloud-based; allowing for energy management on the move, accessible from anywhere
✓ Conversion Factoring (using current tariffs) allowing prices to be set for energy consumption
✓ Pulse Information recorded in 15 Minute Intervals
Data Interrogation and Reporting
✓ Data integration reporting across all energy types across multiple sites
✓ Graphical reporting displays full breakdown information on a Weekly, Monthly and even a 15-minute basis to identify energy in-efficiencies and achieve financial and environmental objectives
✓ Access to site by site data to identify waste and take measures to improve performance
✓ Analysis and reporting capabilities to satisfy government legislation and international standards
✓ Sub Meter breakdown reporting
✓ Customisable web-based Dashboard Monitoring
✓ Carbon and Sustainability Report Generation
✓ Oil
✓ Gas
✓ Hydro
✓ Manufacturing
✓ Agriculture
✓ Residential 
✓ Pharmaceutical
✓ Healthcare
✓ Automotive
✓ Traffic
✓ Fishing
✓ Supply Chain
The ecoVaro Data Logger monitors and records energy and environmental parameters. These parameters are then fed into our ecoVaro Software where they are measured, documented and validated. The logger uses sensors to take consumption feeds from e.g. meters.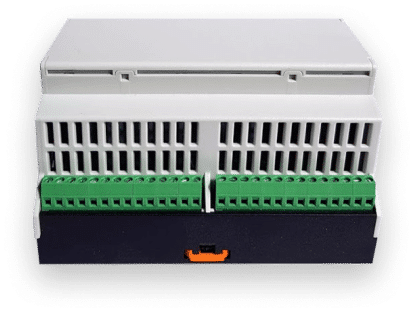 ✓ 1 x 2-way relay
✓ 1x Modbus A&B connection fully isolated
✓ 24V powered
✓ Dallas 1-Wire connection
✓ 4x Pulse inputs for meter
✓ 28x Pulse inputs on secondary connection
✓ 10/100 Mbit Ethernet connection
✓ WiFi enabled
✓ Built in profile graphing with secured access
✓ Fully user programmable
✓ Up to 64GB on-board storage
✓ Maintains data while powered off
✓ Logger data store in MySQL database in 15 min intervals
✓ Can be independent of internal IT networks
Contact Denizon today to find out how we can your organisation overcome business challenges.